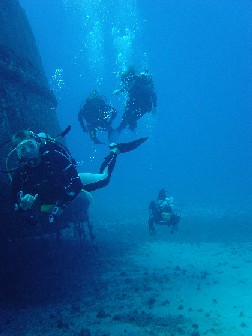 Following a career path that he describes as "non-traditional," Captain Chris Wade is a dive safety officer and senior aquarist at Sea Life Park Hawaii by Dolphin Discovery, the world's largest provider of dolphin interactions.

Wade has a very diverse variety of job responsibilities at the park, which is located on the island of Oahu. In his role as senior aquarist, he oversees all in water and waterfront activities on- and off- site, including animal and guest interactions, underwater exhibit maintenance, and collection of animals for display. He also designs and builds new displays and installs, maintains, and repairs animal life support systems.

As dive safety officer, Wade is responsible for dive training, dive gear repair, and compressor maintenance, and supervising diving programs that adhere to the guidelines of the American Academy of Underwater Sciences (AAUS), an organization of science divers that develops scientific diving programs and standards. With the park's curator of fish, he oversees more than 20 professional staff and 50 volunteer divers.

"he oversees more than 20 professional staff and 50 volunteer divers"
Extensive emergency medical training has prepared Wade to be the point person for all park and guest emergencies. In addition, he oversees boating safety and trains all first responders and first-aid trained staff. In addition to these daily activities, he manages long-term projects such as reef monitoring and a captive green sea turtle breeding program.

Of all this job responsibilities, Wade's favorite is working with animals and sharing his love of the ocean with park visitors. "I get to spend lots of time out on the water, which is great," he says. "Sometimes I wonder why they pay me!"

However, there's one part of his job description that Wade doesn't care for. "Cleaning fish poop is not that enjoyable," he says. "Not all aspects of the job are pleasant, but they're minor when I remember being stuck behind a desk all day."

Before becoming a diver and aquarist seven years ago, Wade was a salesperson for a technology consulting firm. He wanted a more exciting career and began working as a deckhand, then became a first mate and dive master with a small research team.

"I love my job now...Since becoming involved in the ocean, I have never looked back"
Wade's educational background includes EMT training and certification, dive medical technology certification, PADI instructor training, and a U.S. Coast Guard-approved Captains Course. A variety of technology certifications, including computer and network technician, round out his resume. "Most of my training has been outside of the traditional school format, which was not always the best fit for me," explains Wade. "I did better in educational programs and classes that were outside of the mainstream."

One benefit of his non-traditional career path is that his training was always focused on a specific end goal. "I researched careers, talked to people, read numerous books, and formulated a plan that would give me the required experience and credentials to work in the field of my choice," he says. "I turned what was a dream into a goal and worked towards it everyday."

"I love my job now," says Wade. "Since becoming involved in the ocean, I have never looked back."

---
<< Back to Profiles Start Page
---